Social Programme

Located in northern Portugal, Braga is the oldest Portuguese city and one of the oldest Christian cities in the world. Bracara Augusta was founded by the Romans and has over two thousand years of history, as reflected in its monuments, which display various styles, such as the Romanesque and the Baroque.

Known as "The City of Archbishops", as for centuries its Archbishop was the most important in the Iberian Peninsula, Braga is a city where squares and churches flourish such that the number of temples for square kilometre has turned into a curiosity.

Nowadays, Braga is increasingly attracting more young people, mainly due to the thousands of students attending the Universidade do Minho.

All this cultural richness can be explored during a historic city centre tour.

On the second day of the meeting, October 2, a dinner will be held at the Restaurante Astória, to bring together all the participants. Located at Praça da República, the heart of Braga, Astória offers a great view over the square and features a menu inspired by the region's tradition.


October 1:

Concert

of University of Minho

Orchestra
October 2: Guided walking tour through the city of Braga, from 7 p.m. 8.15 p.m.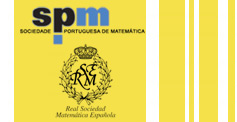 © 3º Encontro Ibérico de Matemática :: 2010